Could this really be what my life revolves around?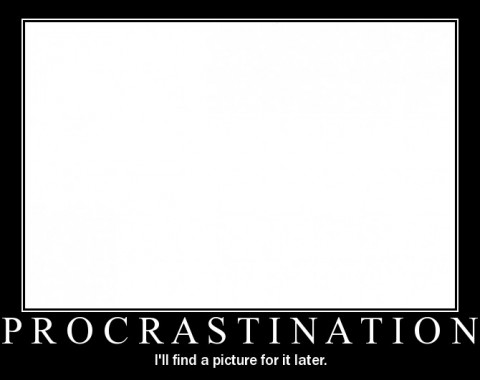 Before taking this class I never would have thought or even cared why I think the way I do or why I decided to pursue a career in Computers or pretty much anything about the way things were in my life...I guess I can thank Ulmer for that. After writing different discourse pages throughout the semester in search of this one wide image that connects them all together and the the only thing that I can think of is 'procrastination'. Is the act of procrastination my "compass"? Even though this wide image (if you will) may seem like it can not be applied to the aspects of my discourse pages but it can be. Wanting to pusue a career in computers is just one aspect of procrastination and how being a procrastinator is not all that bad when it comes to computer scientists. Computer Scientists pride themselves on making programs that make easier and more efficient. I am not saying that all computer scientists are lazy procrastinators but the majority are. All through my education growing up I have always put off things til the last minute, and I know it's not actually a trait to be proud of, I still did manage to get into a very good college. Some people use the excuse that they work better under pressure, but since I don't really know how I work not under pressure so I can't compare.
This one trait about me is something my mom does not like because she says that I remind her of my dad who I've mentioned in some discourses hasn't always been there for me and my brother. I value what my mom thinks and consider her my hero. She has always been there for my brother and I, and although she doesn't get after me when I tell her I missed an assignment in school, did bad on a test due to not studying, or just other disappointing aspects of school I know she still cares...she just lets me be an adult and face the consequences on my own. One thing I do hate is that I feel like I'm becoming a bad role model for my brother. My brother Alex may not see me being a procrastinator since I do not live at home anymore but he knows how I used to be in high school. Even after I had an epiphany and began to shape up towards the end of high school I still feel that the Valley did not prepare for college and I feel like I'm becoming more of a procrastinator.
I just recently had another epiphany and I think it's time that I change the way my life is going. My dad is an alcoholic and it is obvious that alcohol has ruined his life, and considering how much alcohol has played in on the way I was brought up one would think that I would stray away from the stuff. While I do not consider myself that much of a social drinker I feel that it is affecting my life. As far as school goes, the only thing I think is affecting that is my procrastination however my personal life and finances have just been affected. On Friday night, December 7th I was pulled over and arrested for DWI. For the first time of my life I was arrested, and after how much I know it affected me having my dad go to prison and how lately my mom says I've been reminding her of my dad it's kind of ironic that this happened to me. Although I am not serving time, this whole weekend has been a rude awakening for me. Just as much as this class has been for me getting to know my wide image, after this weekend it was a reminder that although my wide image is procrastination right now it can change to a point where I can end up in a bad place and my wide image can shift from procrastination to alcohol and then and only there I'll become the only thing I didn't want...my father.